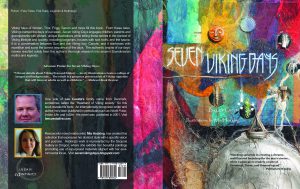 Viking tales of Woden, Thor, Frigg, Saturn and more fill this book.  From these tales, Vikings named the days of our week.  Seven Viking Days engages children, parents and grandparents with vibrant, unique illustrations while telling these stories in the context of Viking lifestyle and society.  It is a conversation between Sun and the Viking boy, Canute, and reinforces the correct sequence of the days.  The authentic origins of our days' names resulted solely from the author's thorough research into ancient Scandinavian myths and legends.  This children's picture book is full color, hardcover, 8.5 by 11 inches, 32 pages.  ISBN 978-1-4958-0584-4.  Library of Congress Cataloging-in-Publication Data:  2015937660.
Author:   One side of Lee Cuesta's family came from Denmark, sometimes called the "Heartland of Viking society."  So this book reveals his roots.  An internationally recognized writer and author, he's been published in periodicals such as World Pulse, Indian Life, and InSite.  His novel was  published in 2001.  Visit leecuestalive.com and leecuesta.com.  
Illustrator:   A resourceful professional artist, Mia Hocking's passion is mixed media (recycled) visual art.  This book expresses her abstract style with a specific vision and purpose.  The Sequoia Gallery in Oregon has exhibited her work, which represents core life philosophies of environmental consciousness and personal journeys.  Visit sevenvikingdays.blogspot.com.