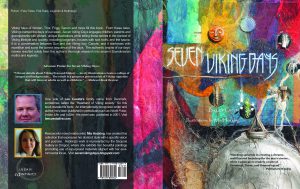 A professional artist whose specialty is mixed, recycled media, Mia Hocking masterfully created the illustrations for Seven Viking Days, designing a dreamy, multilayered collage of images and backgrounds. Now this Second Edition showcases the quality of her artwork in a far superior format. Her vibrant, captivating illustrations make Seven Viking Days a hit not only with children and grandchildren, but for their parents and grandparents as well. Both Publishers Weekly and Midwest Book Review have praised this book. Her unique, 3-D relief original artwork is faithfully captured with professional photographs. She teamed up with Lee Cuesta, a professional journalist, who thoroughly researched ancient Norse and Scandinavian myths and legends to uncover the authentic origins of our days' names. So Viking tales of Woden, Fenrir, Frigg, Saturn, Thor and his hammer, Mjolnir, and more fill this book. From these tales, Vikings named the seven days of our week. Cuesta weaves these stories in the context of Viking lifestyle, history and society. The result is a gorgeous presentation of Viking vignettes in an engaging, spirited conversation between Sun and the Viking boy, Canute, which reinforces the correct sequence of the days with repetition and symbolic icons. As an additional bonus, the hardcover of this Second Edition is now less expensive than the first, and it also is available in paperback.

Praise for Seven Viking Days
"Hocking succeeds in creating a dreamy,
multilayered backdrop for the sun's stories …
while Cuesta gives readers a taste of
Germanic, Norse, and Roman legend."
Publishers Weekly
"Vibrant details about Viking lives and history … lovely
illustrations create a collage of images and backgrounds.
…The result is a gorgeous presentation of Viking vignettes
that will interest adults as well as children."
Midwest Book Review
Author:   One side of Lee Cuesta's family came from Denmark, sometimes called the "Heartland of Viking society."  So this book reveals his roots.  An internationally recognized writer and author, he's been published in periodicals such as World Pulse, Indian Life, and InSite.  His novel was  published in 2001.  Visit leecuestalive.com and leecuesta.com.  
Illustrator:   A resourceful professional artist, Mia Hocking's passion is mixed media (recycled) visual art.  This book expresses her abstract style with a specific vision and purpose.  The Sequoia Gallery in Oregon has exhibited her work, which represents core life philosophies of environmental consciousness and personal journeys.  Visit her at sevenvikingdays.blogspot.com.